The Earth-Friendly Portable Toilet ''BioMikalet''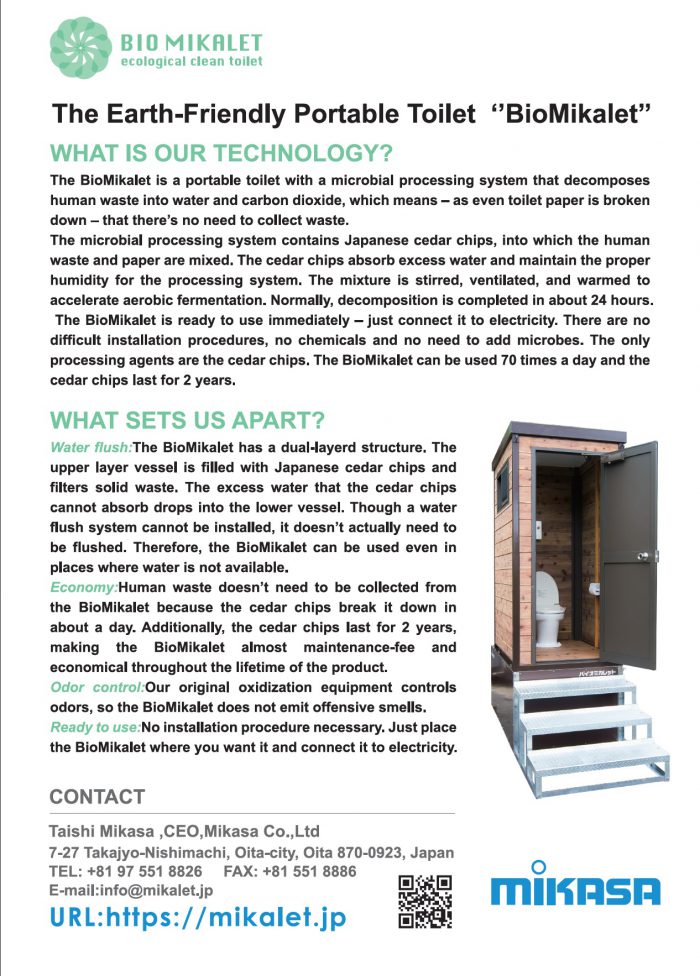 WHAT IS OUR TECHNOLOGY?
The BioMikalet is a portable toilet with a microbial processing system that decomposes human waste into water and carbon dioxide, which means – as even toilet paper is broken down – that there's no need to collect waste.
The microbial processing system contains Japanese cedar chips, into which the human waste and paper are mixed. The cedar chips absorb excess water and maintain the proper humidity for the processing system. The mixture is stirred, ventilated, and warmed to accelerate aerobic fermentation. Normally, decomposition is completed in about 24 hours.
The BioMikalet is ready to use immediately – just connect it to electricity. There are no difficult installation procedures, no chemicals and no need to add microbes. The only processing agents are the cedar chips. The BioMikalet can be used 70 times a day and the cedar chips last for 2 years.
WHAT SETS US APART?
Water flush:The BioMikalet has a dual-layerd structure. The upper layer vessel is filled with Japanese cedar chips and filters solid waste. The excess water that the cedar chips cannot absorb drops into the lower vessel. Though a water flush system cannot be installed, it doesn't actually need to be flushed. Therefore, the BioMikalet can be used even in places where water is not available.
Economy:Human waste doesn't need to be collected from the BioMikalet because the cedar chips break it down in about a day. Additionally, the cedar chips last for 2 years, making the BioMikalet almost maintenance-fee and economical throughout the lifetime of the product.
Odor control:Our original oxidization equipment controls odors, so the BioMikalet does not emit offensive smells.
Ready to use:No installation procedure necessary. Just place the BioMikalet where you want it and connect it to electricity.
CONTACT
Taishi Mikasa ,CEO,Mikasa Co.,Ltd
7-27 Takajyo-Nishimachi, Oita-city, Oita 870-0923, Japan
TEL: +81 97 551 8826 FAX: +81 551 8886
E-mail: info@mikalet.jp
URL: https://mikalet.jp